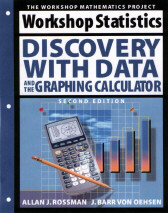 Listing of Typographical Errors
last updated: 3/28/02
Please check back for additions to this page as we identify and correct errors.
p. 48, Activity 3-3: The axis label should say "weight" and not "exams."
p. 54, Activity 3-5: In part(f), Xscal should be Xscl to match TI window. Note, students may wish to adjust YMAX for the last histogram as well.
p. 59, Activity 3-11: Two entries in the data table are wrong. Replace one 16 with a 17 and one 24 with a 25.
p. 207, Activity 10-1: The paragraph below (b) should refer to twelve destinations, not fourteen.
p. 217, Activity 10-3 (j): expression in calcualtor should read: sum(LRESID2)
p. 364, graphs at top of the page should not be there
p. 373, Activity 17-1 (h): The last two sample sizes in the table should be 20 and 40, not 25 and 50.
p. 388, Activity 18-1(f): Should refer to normalcdf command not invNORM
p. 442, Activity 20-18 (d): TheCONFD program should have a .83p extension rather than a .83g extension.
p. 508, Activity 21-1, exposition box, the sample proportions should be subscripted (p1-hat and p2-hat)
p. 565, Activity 26-9 (c): The z-statistic should be 4.15, not 4.25.
p. 577, Activity 27-2 (k): The program is STDER.83p and not STDER.83g.