MAA PREP Workshop
"Post-Calculus Investigations of Statistical Concepts and Methods"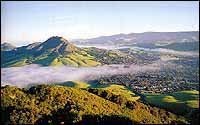 July 18-22, 2005
Interested in infusing your post-calculus introductory statistics course with activities and data?
Interested in creating a new course that provides a more balanced introduction to statistics for mathematically inclined students?
Interested in modeling recommended pedagogy and content for future teachers of statistics?
This workshop is intended for college faculty who teach introductory statistics courses for mathematically inclined students. The goals of the workshop are to help participants adapt current content and pedagogical recommendations from algebra-based introductory statistics courses to the post-calculus level, providing mathematically inclined students with a more balanced introduction to the discipline of statistics. These adaptations may involve development of a new course or infusion of data and activities into existing courses.

This workshop seeks to generate productive thought and discussion about the appropriate goals, content, and pedagogy of the first course for mathematically inclined students; offers helpful guidance for implementing activities and data assessing student learning, and using technology effectively; and build a supportive network of teachers of such courses from statistics and mathematics departments. Workshop participants will receive a copy of Investigating Statistical Concepts, Applications, and Methods (Chance and Rossman, 2006), an investigation-based text written by the presenters, as well as an extensive binder containing articles, additional activities, course materials, and assessment items.

Most workshop sessions will consist of participants working through activities selected to illustrate the guiding principles behind the development of the course materials. Many activities will involve the use of technology such as statistical analysis software and applets designed specifically to enhance student learning. Presenters will also offer implementation and assessment suggestions during these activity-based sessions. Some workshop sessions will be devoted to small-group discussions (led by a variety of instructors) of course goals for various student audiences and of implementation and assessment issues.
Apply online:
here
Download pdf application:
here
Still accepting applications.
Registration fee: $250
Workshop Logistics
Presenters: Allan Rossman and Beth Chance
Special Guests: Ginger Rowell and John Holcomb



Travel to San Luis Obispo: San Luis Obispo has a small airport (code: SBP) that you can fly into from Los Angeles (United, American), San Francisco (United), Phoenix and Las Vegas (America West). Other options are to fly into Santa Maria (about 40 miles away), Santa Barbara (about 80 miles away), Los Angeles or San Francisco (each about 200 miles away). SLO also has an Amtrak station.

Ground transportation: If you are arriving into SBP on Sunday, July 17 or Monday, July 18, we will arrange for your transportation from the airport to campus. If you are leaving from SBP on Friday, July 22 or the morning of Saturday, July 23, we will arrange for your transportation from campus to the airport. If you are arriving into SBP on Saturday, July 16, we may or may not be able to arrange for your transportation to campus; if not, you can find a taxi at the airport. If you are arriving into other airports, you'll have to find your own way to San Luis and to campus, but of course we'll be glad to offer advice and as much assistance as we can. For those of you driving to campus, you can purchase a parking permit for the week for $7.
Lodging: Housing will consist of dorm rooms beginning Monday evening, July 17 through Friday morning, July 22. You'll have a single room but will have to share a bathroom with several other people. We'll provide information about what you should bring to make your dorm experience more pleasant (e.g., reading lamp, fan, etc.) later. If you would like to move into your dorm room a day earlier or stay a day later, that can be arranged at an expense of roughly $35/night. If you would like to bring a spouse/guest to stay in the dorm room with you, that can be arranged at an expense of roughly $15/night.

Meals: Meals will be provided starting with dinner on Monday through lunch on Friday. Some of these, including Monday dinner, will be catered, sit-down meals; others will be cafeteria-style.

Internet access: Most of our sessions will be held in a computer lab, so you'll have internet access during breaks throughout much of the day. It's also possible to arrange for dorm rooms to have Ethernet connections.

Optional excursions: We will organize two optional evening excursions to see local sights. On Tuesday we will travel in vans to Morro Bay, a beautiful spot on the ocean, and on Thursday we will travel on foot to experience the SLO Farmer's Market, a weekly event not to be missed in downtown SLO. These trips will be after-dinner excursions.

San Luis Obispo: SLO is a beautiful place, well worth the time to explore if you can come early or stay late. You might check out www.visitslo.com for some information. If you would like some information on local hotels that are close to campus, a few we can recommend are listed below, and you can find information about them from the www.visitslo.com site. We tend to use La Cuesta Inn because it is both a nice place and reasonably priced. When making reservations at any area hotel, mention that you have business at Cal Poly - some places (like La Cuesta) sometimes apply discounts.
Apple Farm Inn, 2015 Monterey Street, San Luis Obispo, CA 93401, Phone: (805) 544-2040
Holiday Inn Express, 1800 Monterey Street, San Luis Obispo, CA 93401, Phone: (805) 544-8600
La Cuesta Inn, 2074 Monterey Street, San Luis Obispo, CA 93401, Phone: (800) 543-2777
For more information, contact:

Allan

Rossman

(arossman at calpoly.edu)

Beth Chance (bchance at calpoly.edu)

Carol Erickson (cerickso at calpoly.edu)